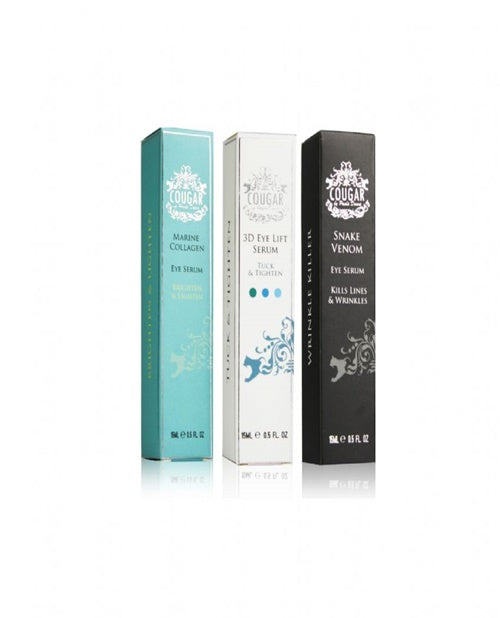 EYE SERUM TRIO
A trio of our favorite 15ml eye serums, all targeting different signs of ageing and with different skincare benefits! All with added Hyaluronic  acid for an extra lifting & plumping effect! 
3D Eye lift Serum:
The ultimate non-invasive Eye lift!
This 3D Eye lift Serum works with anti-ageing technology to combat the signs of ageing, mimicking the procedure of a Face Lift, without scarring, pain, hefty price tag and long recovery period. The 3D Eye lift serum does 3 very important things. 
1. It works to brighten the under eye, adding luminosity and glow to the skin from the brightening ingredients of Alantoin and Licorice extract, creating a wide awake, brighter eye. 
2. It detoxifies the skin of all impurities and fixes free radical damage, as well as protecting and preventing any more free radical damage to take place on the skin.
3. With the added ingredient Hyaluronic Acid, works to lock moisture in to the skin. Also works to plump and tighten the under eye skin, as it penetrates deep into the epidermis, filling the areas with moisture, therefore eradicating any deep on fine lines and wrinkles.
Snake Venom Eye Serum: 
The Snake Eye Serum is designed to tone and tighten the under eye area with the help of Synthetic Snake Venom Extract. This provides many anti ageing benefits. Synthetic Snake Venom is developed to mimic the paralyzing effect that Snake Venom has on the skin.
Actual Snake Venom causes muscular paralysis, which paralyzes the skin then the whole body. To achieve the same effect for the facial skin, a synthetic derivative of the venom can be used to deaden the muscles in the face to prevent the formation or deepening of wrinkles. Synthetic Snake Venom reduces muscular contractions in the face and reduces cell movement; thereby keeping the skin smooth and wrinkle free.
Marine Collagen Eye Serum:
The delicate eye area needs extra care and with that in mind, we have developed a innovative eye gel that is guaranteed to leave eyes feeling, awake, toned, smooth and wrinkle free.
This wonderful cooling, anti-aging eye gel calms the look of dark circles, tones and refreshes in one go. With mild Aloe Vera eye gel, Vitamin E, Marine Collagen, Cucumber, Blueberry, Apple, Passion fruit and Green Tea extracts, and natural avocado oil to assist and control the signs of aging around the eyes.
Directions: Apply a small drop to finger tips and massage under the eyes. Can also be used on the brow line to provide lift. 
---
---
More from this collection